FINANCE
Faster and tighter financial management in revenue capture and cost control using automated invoicing, sub-contractor RCTI and employee management.
INVOICING


SPEED UP YOUR CASHFLOW
Automated invoicing tied to summary report for 100 per-cent reconciliation in half the time.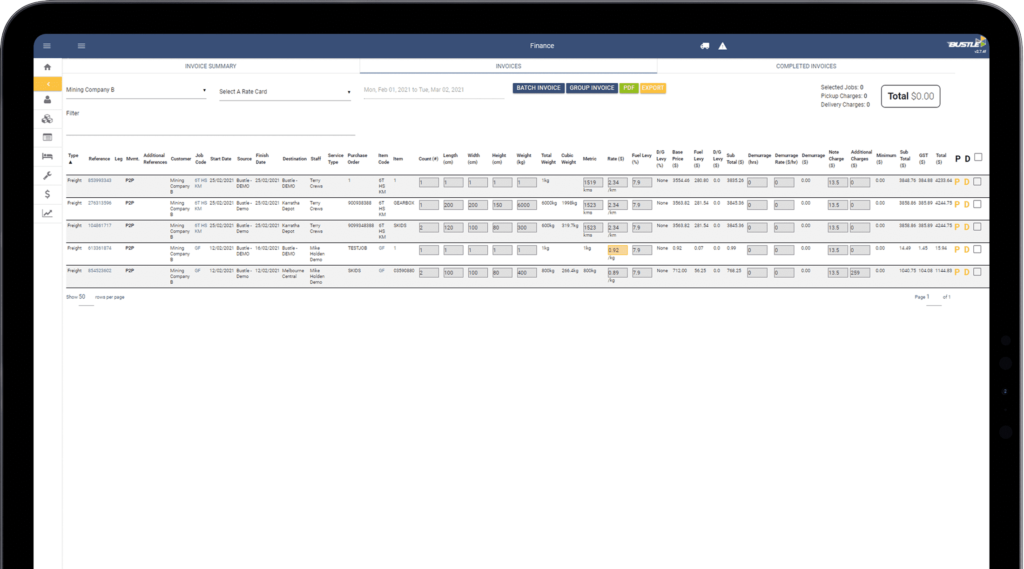 RATE CARDS


IMPORT OR BUILD YOUR OWN
Flexible rate cards with all charge types from item, count, fuel or bulk through to more complex weight-break bands  underpinned by fuel levy calculations.  

FINANCE CONNECTION


LINK TO YOUR ACCOUNTING SOFTWARE
Integrated connectivity aligning account codes and data payloads to preferred accounting platforms and ERPs.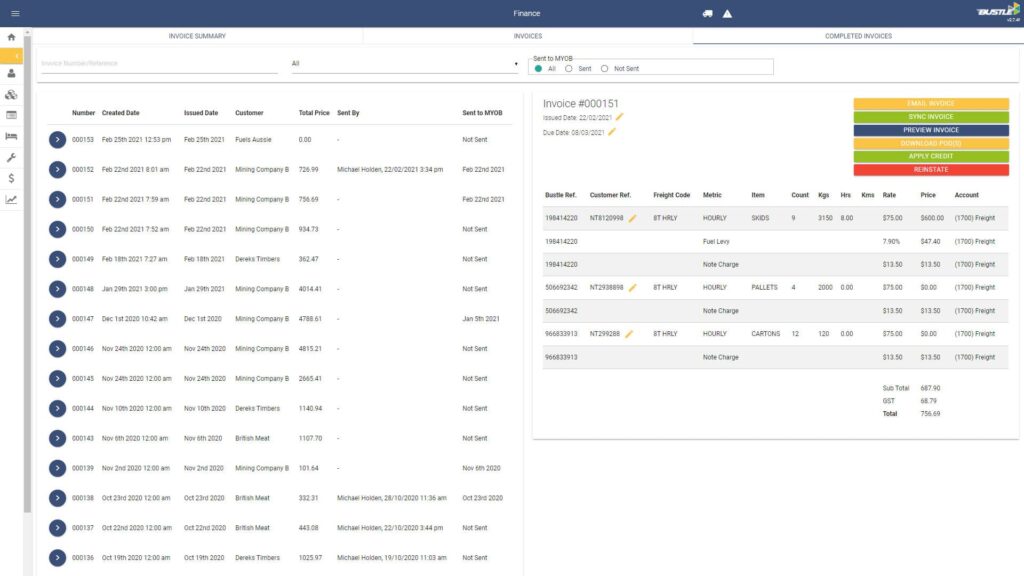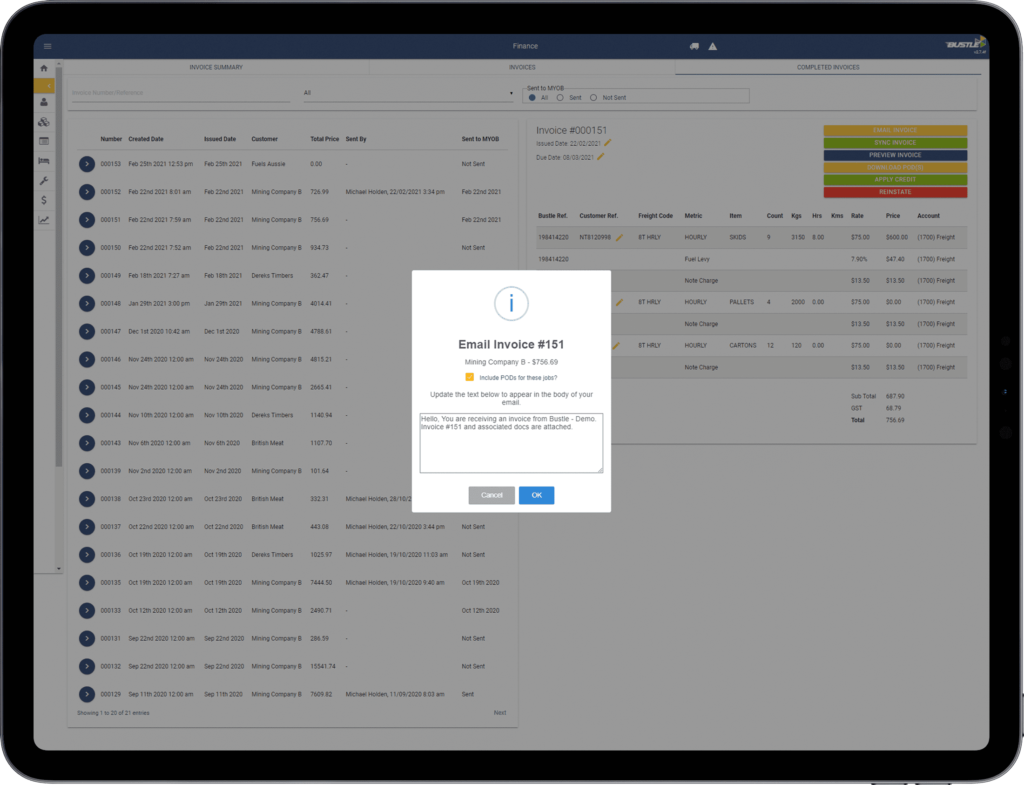 CLOSE THE LOOP


MATCH PODS AND DOCUMENTS TO INVOICES
All invoices matched to PODs and associated movement documents such as packing lists or photos upon invoice creation

RCTIS (COMING SOON)


SUBCONTRACTOR PAYMENTS
Contractor and employee cost accruals in development. 'Under development'.

Bustle is currently evolving the data capture to incorporate live cost accruals and financial data payloads. Existing customers on the platform are engaged in designing this module.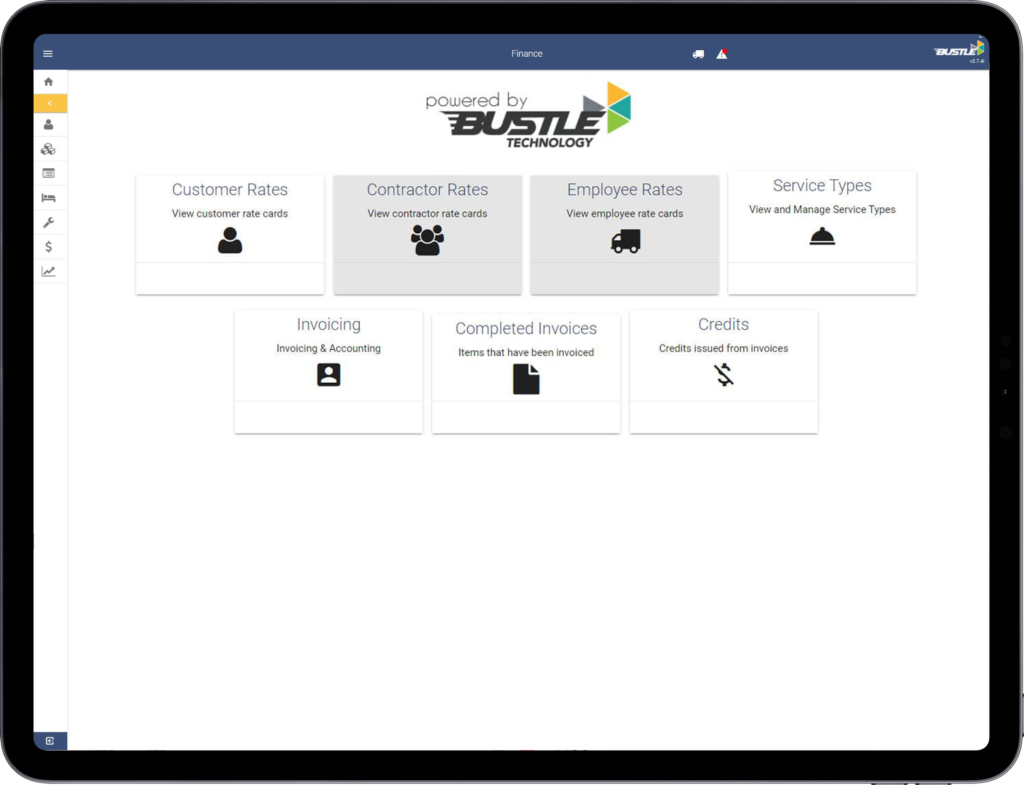 "Invoicing is simple. Pick up and delivery charges can be added, fuel levy's and additional charges applied at any stage ensuring 100% revenue capture."
KATE BYARS, MANAGER, MCHAFFIE TRANSPORT 
Easy to use, easy to integrate and easy to speak to. BUSTLE™ thrives on making the complex simple, call us to discuss what you are missing from your software.